EVAN BOURGEAU
Evan Bourgeau works in duo with Camille Franch-Guerra and alone. He passes through as many mediums as he researches, as many subjects as theories that animate in his thoughts anthropogenic, metaphysical or moral and cultural questions. Attached to the word, to writing: semantics is an inherent part of his creative process; because writing is linked to wandering. This wandering can also be found in his poetic works, which focus on daily life, desire, love, empathy or nostalgia.
Through his latest research and introspection, paintings have been made where emptiness and the attempt to both avoid and fill it are part of a connection between mind, hand, and medium, following a so-called "symbiotic" state where the body is thus put to the test… As a meditative moment, the hand would metaphorically represent the "dreaming eye", and the color, an immediate interpretation of the unconscious.
"It is a jealousy, in a way, coming from the infinite. And in order not to remain frozen, stupefied, I then maintain this jealousy and I express it, since jealousy precedes imagination; it exceeds the sight. Then I can touch of the thought the infinite one and to represent me the perpetual death and rebirth of any thing circulating around the being, in the desire. Unflabbergasted."
Born in 1990 in Nice
Lives and works in Nice
Course
2016 DNSEP Bosio Pavilion, Superior School of Plastic Arts of the City of Monaco 98000
2014 DNAP mention: congratulations, Bosio pavilion, higher school of plastic arts of the city of Monaco 98000
2008-10 Faculty of Letters : art information communication, Nice 06000
2008 Literary Baccalaureate, theater option, Valdeblore, la Bolline, 06420
Solo exhibitions, in duo
2018 Vovere votum, chapelle la providence, Nice, curator Isabelle Pellegrini, en
2016 Dream Movement, Haut de Cagnes castle, fr
2015 Alma, espace Gred, Nice, fr
2015 Les visiteurs du soir – Botox(s), performance, Topoï, espace Gred gallery, Nice, fr
Group exhibitions
2019 Azimuth, steps, steps, Eva Vautier gallery, Nice
2019 Untitled exhibition, (even) shoes, Hattori boutique, Nice
2018 Natural safe, nuit blanche paris 2018, artistic director Gael Charbau, Paris, fr
2018 Wild thoughts, no made, villa roc-fleuri, cap d'ail
2018 Sans-titre, bel oeil, interior design, curator Isabelle Pellegrini, Nice, fr
2018 Réservoir, as part of curiosity(s), botox(s), atelier 28 nice, fr
2017-18 Inventors of adventures in the framework of the schools of the south, Villa Arson, curator Gaël Charbau Nice,fr
2017 Dematerialization, villa roc fleuri, Cap d'ail, fr
2016 Eloquence of silence, UFO festival, Windsor hotel, Nice
2016 Poursuite, villa roc-fleuri, Cap d'ail, fr
2016 Rêvez, exhibition of the graduates of the schools of the south 2016, fondation Lambert, Avignon, fr
2016 The betrayal of objects, Sisso gallery, curator Nicolas Blamoutier, Lysandre Enanaa, Paris 11ème, fr
2016 Easter in the sun, le salon, Nice,fr
2015 Festvival o.v.n.i , le salon, Nice,fr
2015 Artagon 1 side, Villa Deshayes, Paris 14e, fr
2012 Pleins pouvoirs, Marc Bauer, participation, la station, Nice, fr
Honours and Awards
2015 Artagon i side: finalist of the competition in collective with Camille Franch-Guerra and school prize with
Fanny Lavergne and Charlène Dray
2014 soroptimist club scholarship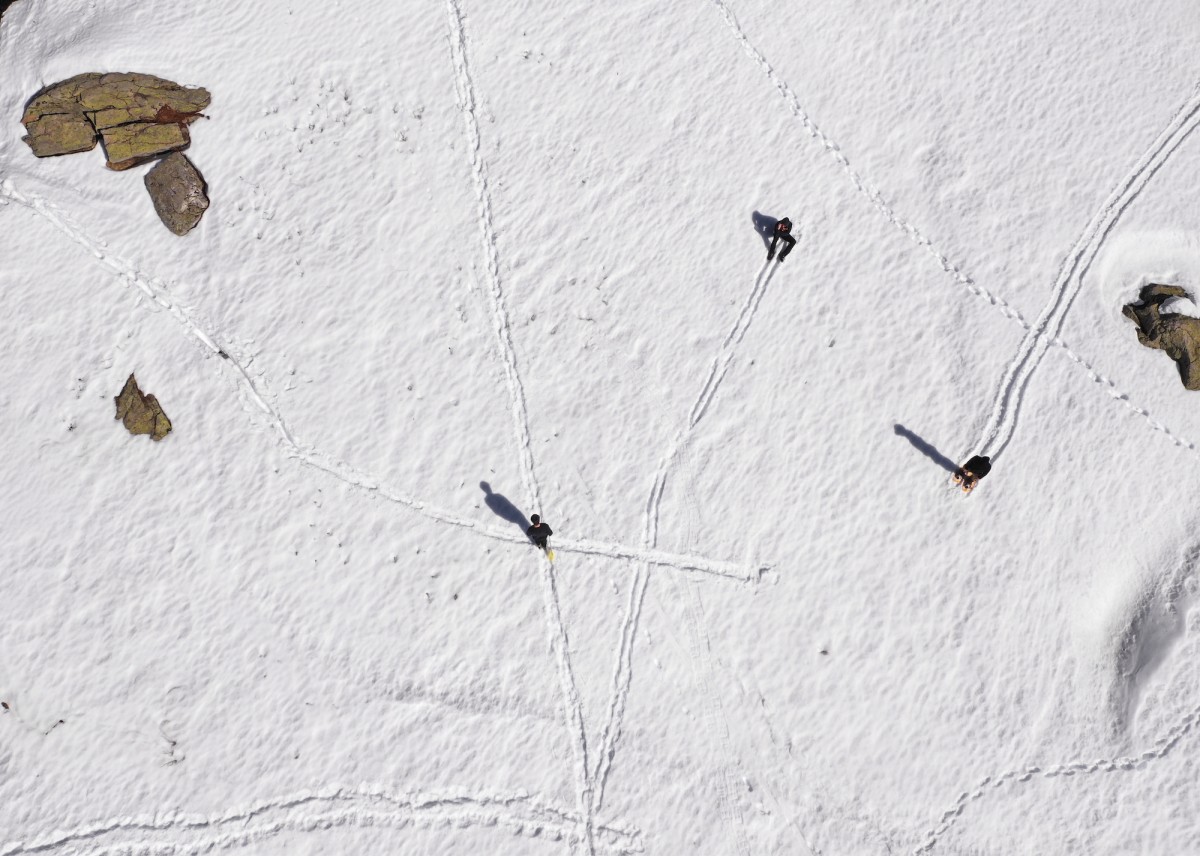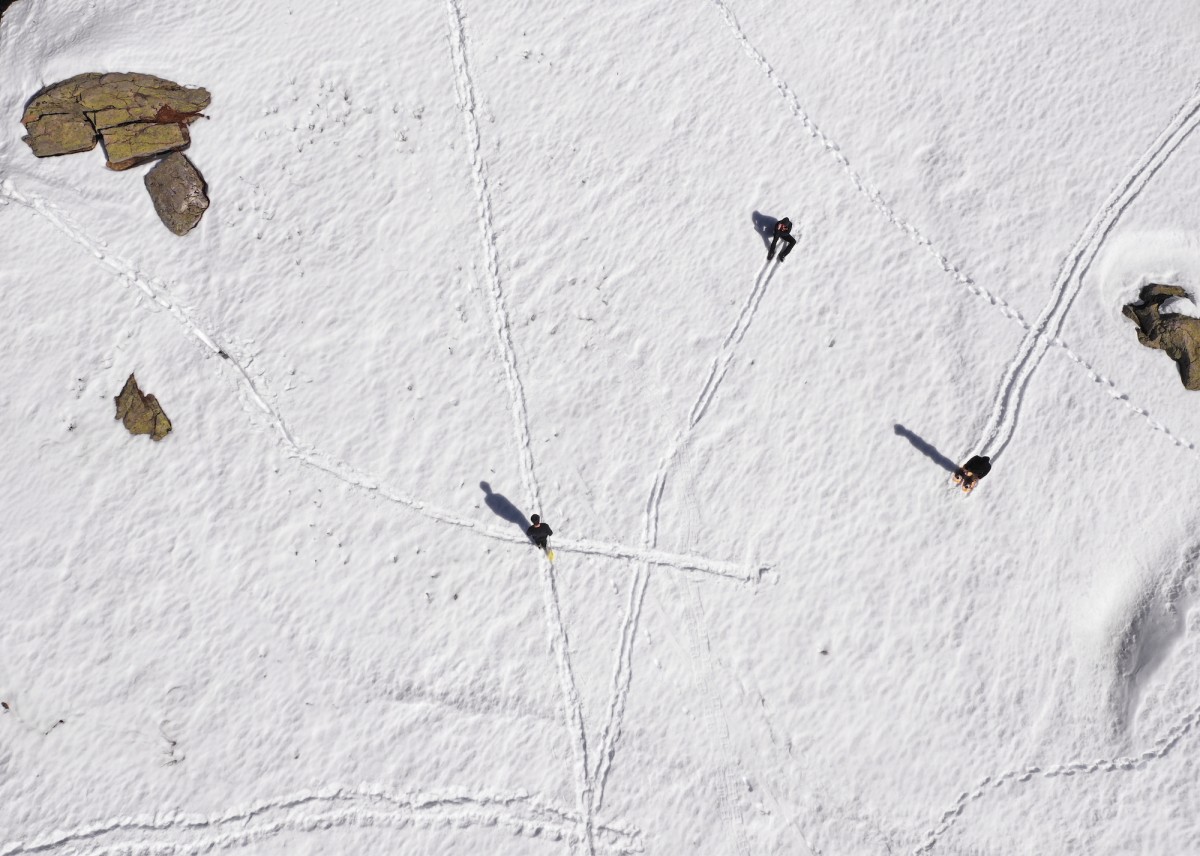 "Who dragged us here? I curse him!"
This phrase came up often with these variations:
"My hands are frozen!"
"I fell in a hole again!"
"This is not the right way".
Sometimes the valley silenced the grunts, at other times it gave them a powerful echo. At 2500 m of altitude in the Mercantour mountains, the crossing from Trécolpas to the Cougourde refuge was much more difficult than we had imagined.
First of all, because the first price snowshoes in tilt don't work, it's always unstable, you lose your balance and you fall on the side, and then good luck to get up again.
So most of us chose not to use them, and since there was at least a meter of snow, it was frozen enough to slide but also soft enough to sink down to our crotches. With the weight of the bag at each step, it was the fear that the snow would crack, because once blocked, it would take several minutes to get out.