FLORENT TESTA
Florent Testa, born in 1988 in Nice, lives and works in Nice, Vence and Valbonne.
The artist is involved in the teaching of Applied Arts in the academy of Nice and is particularly active in the teaching of artistic design methods and the development of new technologies.
He teaches at the Henri Matisse high school in Vence and at the Simone Veil art and design prep school in Valbonne.
Florent Testa is active in the field of design alongside the SMARIN studio as an executor and facilitator of reflections on the connections between digital technologies and handcrafted design.
Florent Testa exhibits his work in Antibes, Brussels, La Colle sur Loup, Gattières, Geneva, Monaco, Marseille and Nice.
Florent Testa graduated from the Beaux Arts of Monaco and creates sculptures and installations in sand, beeswax and wool. These materials evoke a wild and timeless imagination.
Emancipating himself from tools, he favors a singular gesture combined with fundamental elements such as water, clay or heat.
These rudimentary means of implementation constitute the starting point of his work to create objects with temporary and reversible forms.
Florent Testa proceeds to a photographic and video archiving of his works. The images serve as models to reactivate the protocols and to make the object again.
Some of these images are elaborated as autonomous video or photographic works.
More recently he has equipped his workshop with digital technologies such as a 3D printer and a 3D scanner. He thus creates a three-dimensional archive of his work in the form of 3D models and polymers manufactured by additive synthesis.


Wrestler,

2018
3D printed phosphorescent polymer
from the digitization of a clay original
18 x 12 x 8 cm

Strata on a sand bed,
2016 – 2019
Wax and sand – 66 x 57 x 48 cm
The sculpture is conceived through a performative process mixing water, the body and liquid wax.
The artist exploits the heterogeneity of these two materials to create a wax cloud. Immersed in water, he extrudes the wax by playing with the water, its surface, its waves and its pressure.

Workshop of wax casting in clay and sand

Participatory installation, detail.
Sand, clay, wax, water, sea sponge and wool – Variable dimensions
Personal exhibition
2016
E901*, Louis Vogade Cultural Center, Gattières
Group Exhibitions
2018
Nopoto, Atelier Frega, Nice
100 titles, Bel oeil – Loft, Nice
Wild Pansies, Garden of the Villa Le Roc Fleury, Cap d'ail
Acclimatization, Garden of the Villa Thuret, Antibes
Reservoirs, Workshop 28, Nice
2017
1516 Arts, The Deviation, Marseille
Incartades, La Déviation, Marseille
Dematerialization, Villa du Roc Fleuri, Cap d'Ail
2016
Stase, The Deviation, Marseille
European Heritage Day, Espace Rose de Mai, La Colle sur Loup
Environment Day, Maison de l'Environnement, Nice
Histoires de Dire, Garden of the Renoir Museum, Cagnes sur mer
Creator's exhibition, Centre Expo Congrès, Mandelieu la Napoule
2014
Metamorphosis, Terra Amata Museum, Nice
2012
Draw by law, Espace Gred, Nice
State of affairs, Espace Gred, Nice
2011
Tell me what you eat, Hotel Van de Velde, Brussels
2010
I destroyed the dam, Galerie du Quai Antoine 1er, Monaco
2009
International Film Festival on Clay and Glass n°7, Forum, Montpelier
Prizes and competitions
2019 Winner of the Sculpture in Dialogue competition with the Marie Toesca Media Library of the Gattières Town Hall.
2009 Young Filmmaker Award Atelier d'arts de France and Arte Culture.
Training
2012 Master II Art and Scenography, ESAP Monaco
2011 Master I Visual Arts, Head Geneva
2008-2010 Bachelor of Visual Arts, ESAP Monaco
2006-2008 BTS Visual Expression / Communication Space, Olivier de Serres Paris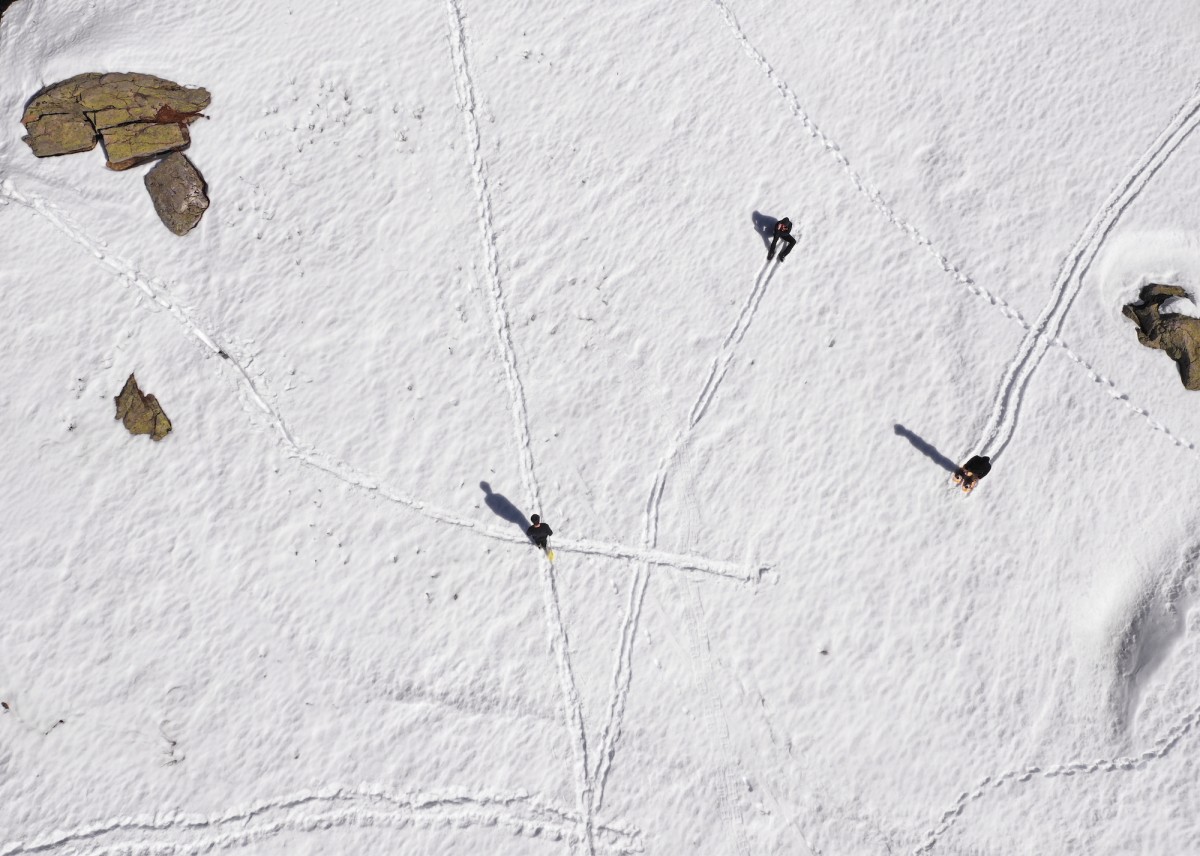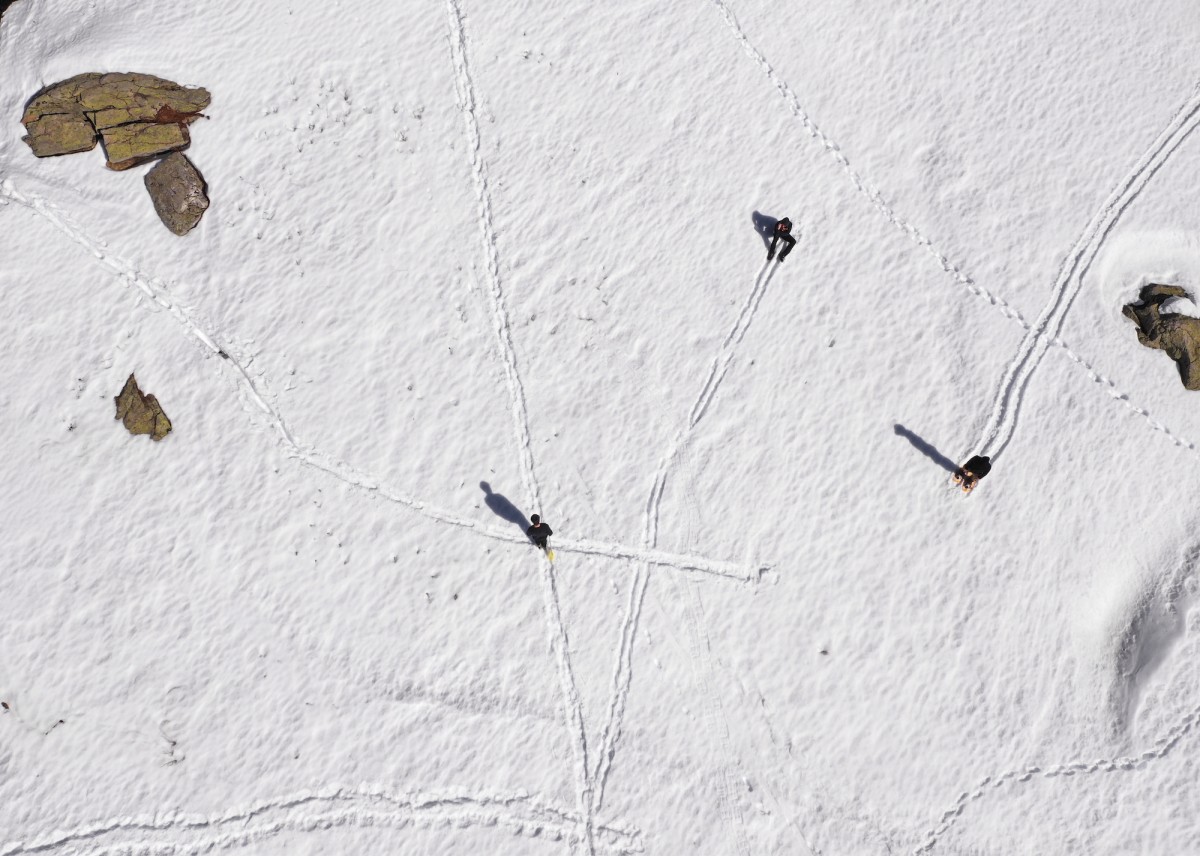 "Who dragged us here? I curse him!"
This phrase came up often with these variations:
"My hands are frozen!"
"I fell in a hole again!"
"This is not the right way".
Sometimes the valley silenced the grunts, at other times it gave them a powerful echo. At 2500 m of altitude in the Mercantour mountains, the crossing from Trécolpas to the Cougourde refuge was much more difficult than we had imagined.
First of all, because the first price snowshoes in tilt don't work, it's always unstable, you lose your balance and you fall on the side, and then good luck to get up again.
So most of us chose not to use them, and since there was at least a meter of snow, it was frozen enough to slide but also soft enough to sink down to our crotches. With the weight of the bag at each step, it was the fear that the snow would crack, because once blocked, it would take several minutes to get out.