Charlotte Pringuey-Cessac
Born on October 12, 1981, in Vincennes.
"Where are we going? Everything has been done. In the last twenty years, it seems that the extreme limits have been reached. One cannot be more ingenious, more refined than Ravel, more audacious than Stravinsky. What will be the new formula
art? It will be necessary to return to the very sources, to simplicity, to find something truly new. The counterpoint? This is undoubtedly where the future lies! "(Paul Dukas, 1865-1935)
See more
Main exhibitions at the gallery :
News / Press
Press news from Charlotte Pringuey-Cessac
Request for information
Artist information request form Charlotte Pringuey-Cessac
See all the works of Charlotte Pringuey-Cessac available online

Charlotte Pringuey-Cessac
Charlotte Pringuey-Cessac
Born on October 12, 1981, in Vincennes.
PERSONAL EXHIBITIONS
2019
Original Noise, Mamac, Terra Amata, Nice
2018
INFRA, archaeology of the body or how gestures build, CAC de Châteauvert, Voyons Voir residence
2017
Night of Creation, invitation from the City of Versailles
2016
Bruits de couloir, Carte blanche at Alexandre Dufaye, Nice
2015
Variations, Eva Vautier Gallery, Nice
Super Party, Grimaldi Forum, Monaco
Drawings and sculptures, Martagon Gallery, Malaucène
2014
Primitive Today, Terra Amata, Museum of Prehistory, Nice
2013
Black in Light, Private Banking, Monte Carlo, Monaco
2010
The evening visitors, Villa Rivoli, Nice
2002
Movements, Paribas Private Bank, Monaco Transparency, Private, Nice
GROUP EXHIBITIONS
2021
Nomadic Project, Eva Vautier Gallery, Nice
2018
Tableaux Fantômes, Villa Marguerite Yourcenar (June) / La Piscine, Roubaix (November)
With pleasure, Eva Vautier Gallery, Nice
2017
Bruit Originaire, Supervues, Hotel Burrhus, Vaison la Romaine
Martagon Gallery, Malaucène
Penta of Casinca, Corsica
Tableaux Fantômes #6, Lille
2016
Impressions d'ateliers, Centre international d'art contemporain, Carros
Ghost paintings #4 / #5, Lille
Vent des Forêts, Fresnes-au-Mont, Meuse
2015
Tribe, Eva Vautier Gallery, Nice
Croquer, Mac ARTEUM, Chateauneuf Le Rouge
Ghost paintings #2, Fort de Mons
À Une Année Lumière, Eva Vautier Gallery, Nice Re-Editions, Espace À Vendre, Nice
2014
Les Tableaux Fantômes, Médiathèque Danielle et François Mitterand, Bailleul
The 10 years, Espace À Vendre, Nice
In suspense, Eva Vautier Gallery, Nice
Concentration(s), Le 11, Roubaix
2013
Drawing by Numbers, Espace à Vendre, Nice
La Réserve, Laure Roynette Gallery, Paris
2012
Metamorphoses, Laure Roynette Gallery, Paris
Gravures de Poche, Ancien Collège des Jésuites, Reims
No-Made, Villa Le Roc Fleuri, Cap D'Ail
The Poetics of Space, DDC Gallery at Laurent Mueller, Paris
2011
The Arboretum, Roure Villa Le Roc Fleuri, Cap D'ail 2010-11
The Car Show, Auto-Station, La Station, Nice
2010
Light – Dark, UMAM, Château de Cagnes- Sur-Mer
2009-10
Hypothetical, curator Catherine Macchi, Atelier Soardi, Nice
Black lines, Jules Chéret Museum of Fine Arts, Nice
2008
Biennale of Nîmes, La Salamandre Gallery
We don't take the same ones and we start again, Chapelle des Pénitents Blancs, Falicon
2007
Tumbleweed II, Collectifs N202 and Le White Club, Museaav, Nice
Art is amazing, Galeries Lafayette, Nice
Tumbleweed, N202 Collective and The White Club, Salzburg, Austria
Generation 2007, Galerie de la Marine, Mu- seaav, Nice
Student exhibition, Experimental Gallery, Villa Arson, Nice
2006
Ne pas toucher au contour, curator Caroline Challan-Belval, Galerie expérimentale, Villa Arson, Nice
AIDS, PRIZES, RESIDENCES
2018
Residence Voyons Voir, CAC, Châteauvert
2017
Residence Penta du Casinca, Corsica
Financial support from the International Center for Glass Art, Meisenthal
CCE residency, fire arts and new technologies, ENSA, Limoges
2016
Sophia residence, private sponsorship, Versailles
Residency at Vent Des Forêts, Rural Art Center, Meuse
2014/2015
Sponsorship La Forestière du Nord, Igny
2012
Residence in Anyskciai, Lithuania
2011
Creation aid, DRAC, Aix-en-Provence
2010
Bonnard Prize, UMAM, Cagnes-Sur-Mer
La Forestière du Nord, sponsor, production and publishing assistance, Igny
2004-05
Erasmus scholarship, exchange with the Fine Arts of Hangzhou, China
PUBLICATIONS
2010
ARCHAEOLOGICAL CONGRESS OF FRANCE – Nice and Alpes-Maritimes Nice : Abbaye de Saint Pons ; p. 39/40
2009
INRAP – Operation of the excavations of the tramway in Nice directed by Marc Bouiron : Chap. 5.
Studies and Analyses of Painted Plaster Fragments from the 15th century
ARCHÉAM – Archaeological Review: Special Report on the Abbey of Saint Pons, The Abbey Church of Saint Pons in Nice: an Example of Juvarrian Architecture
2008
MEMORY – Master II, University of Letters and Human Sciences in Nice: The Abbey Church of Saint Pons and the Old Monastery
INDIVIDUAL CATALOGS
2011
Bonnard Prize 2010- Kanesuiban 2011, Éditions U.M.A.M.
2010
Trames de l'imaginaire, Charlotte Pringuey- Cessac, Drawings and sculptures, Éditions La Forestière du Nord
PUBLIC ORDERS
2018
INFRA, archaeology of the body or how gestures build, CAC de Châteauvert, Voyons Voir residence
2016
Sperenza, Vent des Forêts, Fresnes-au-Mont, Meuse
2011
Wall drawing – charcoal (70m2), Hall of the School Sciences Po Mediterranean, City of Menton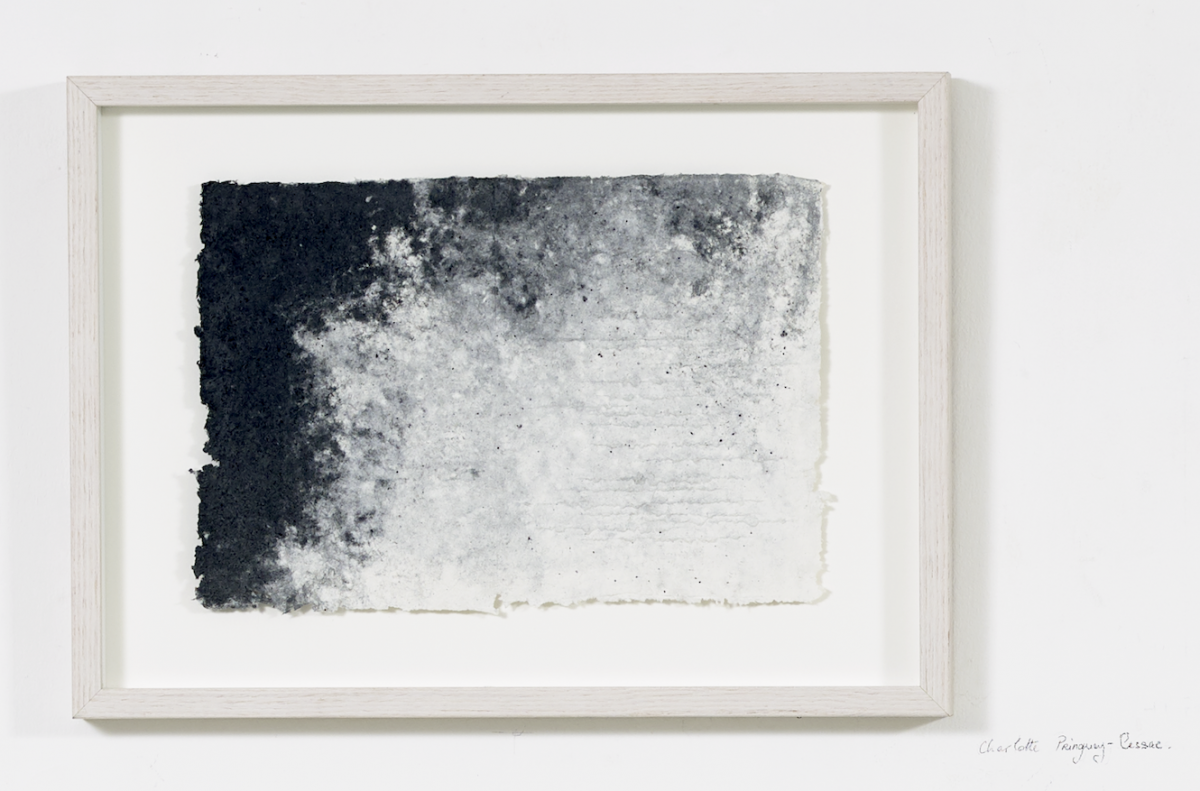 Charlotte Pringuey Cessac
Charlotte Pringuey-Cessac
Sans titre, Charlotte Pringuey Cessac