Marc Chevalier has no preferred medium, he likes experimentation.
He uses different fields of expression because his vision of art does not stop at a single medium.
For the artist, a work of art is the meeting of the elements necessary for the perception of an idea by the viewer. The idea does not precede the making of the work, it develops during the research of this one and evolves according to a process of actions and feedbacks between form and content.
What counts for the artist is the conjunction of elements giving meaning. Whether he sculpts, paints or performs, it is always the intensity of the signifier that guides his gesture. In the same way that his exhibition at the Eva Vautier gallery, Les tableaux n'existe pas, reinvents the vision of painting, Marc Chevalier transforms the codes of art by appropriating mediums and supports to create works that blend lyricism and the impulse of gesture.
His practice is protean, each work has a multi-media inspiration: From a sculpture comes a drawing, a painting, a performance. Marc Chevalier's work gives the impulse to step back, to give birth to an active contemplation in the viewer.
His creative process is scientific and rigorous. To counterbalance a processual practice, Marc Chevalier adds to his installations a "decompensatory element": a manifest of signifying data that allows him to understand his subject, his mechanism and to inscribe himself in a total immersion of his subject. Like her works The Flower That Pleased My Desolate Heart So Much and Apple Red Deflowering, the spigot and paws bring a droll touch to the work, a breath of fresh air in the artist's methodical creative process.
By concentrating on a sculpture, he feeds his painting. It is a journey between disciplines. Sculpture, installation, painting, performance are for the artist territories or chapters of the same work which are fed thanks to the back and forth between the mediums. Experimentation allows for the active enrichment of one's artistic approach, thus perpetually evolving one's thinking and one's work.
Marc Chevalier
Born in 1967
Lives and works in Nice
PERSONAL EXHIBITIONS
2020
The paintings do not exist, Eva Vautier Gallery, Nice
2016
The pulpit of shadows, Le Dojo, Nice
2014
The visitors, event "The evening visitors", Botox network, Nice
2012
Objective abstraction ?MDAC, Cagne sur Mer
2007
Apostrophogeny, Villa Cameline, Nice
The adventures, Donation Mario Prassinos, Saint Rémy de Provence
2002
Remarks on the neighborhood, Le Parvis Scène Nationale, Tarbes
2000
Stereo, Marc Chevalier (with Arnaud Maguet), Françoise Vigna Gallery, Nice
1998
Marc Chevalier (with Cédric Teisseire), Éof Gallery, Paris
1997
Musée des Tapisseries, Aix-en-Provence Sintitulo Gallery, Nice
1995
Gallery of the School, Villa Arson, Nice
Gallery La Tête d'Obsidienne, La Seyne-sur-Mer
2022
A rose is a petunia is a mimosa, com. E.Vautier, N.Lesueur and A.Vitani, Eva Vautier Gallery, Nice
The courage of birds, The Station
2021
Art on the horizon Ben and guests, com. Eva Vautier, La Conciergerie, La Motte Servolex
2020
With pleasure #3 Eva Vautier gallery, Nice Voilà l'été, Le 109, Nice
One meter of distance, Eva Vautier gallery, Nice
Fire walk with me, Musée International d'Art Naïf, Nice
2019
With pleasure #2, Eva Vautier gallery, Nice
Life is a film, invitation by Ben, Le 109, Nice
Sputnik the castle the star and the wheel, collaborative project with Agathe Wiesner, Arnaud Biais, Juliette Liautaud, France Gayraud, Utopia, Piedigriggio, Corsica
2018
With pleasure, Eva Vautier gallery, Nice
La fabrique de l'art, Le FRAC PACA hors les murs, Briançon
Lunch break, Caisse d'Epargne Masséna, Nice
Cabaret chaotique, event "Eclairage publique", Le 109, Nice Very Nice, Centre d'art contemporain de St Restitut, St Restitut
Trà e stelle, Utopia artist residence, Piedigriggio, Corsica, 2018
2017
Go canny, Villa Arson, Nice
Citations and references, Le FRAC PACA hors les murs, Centre culturel de St Raphaël Public lighting, Le 109, Nice
The comedy of work, "evening visitors event", Le 109, Nice
2016
Impressions of workshops, Grimaldi Museum, Cagne-sur-Mer
Histoires parallèles, FRAC PACA, Marseille
Supervues, Burrhus Hotel, Vaison-la-Romaine
2015
A year of light, Eva Vautier gallery, Nice
Texto, works from the collection of FRAC Poitou Charente, Roumazières-Loubert
2014
I don't know what I saw, Cité du design, Saint-Etienne,
I write therefore I am, Le Garage, Brive la Gaillarde
10 years of the gallery Espace à Vendre, Nice
UMAM, Castle of Cagne-sur-Mer
2013
Plug-in, works from the FRAC Poitou Charente collection, Angoulême Museum
Why not… / Why not…, Biennial of non-objective art, Moulins de Villancourt, Pont-de-Claix Certain minutes, Les Charpentiers de la Corse, Ponte-Leccia
A tramway named d'Azur, Fondation rené d'Azur, Nice
2012
Be youself, Gallery Espace à débattre / Espace à vendre, Nice Colorific, Ecole des arts de Braine, Belgium
Texto, works from the collection of FRAC Poitou Charente, Montmorillon
2011
Painting in a different way, Musée national Marc Chagall, Nice
The color in front, MAMAC, Nice
Nitrogen cure, La Maison singulière, Nice
Ici Nice, Building site without new, Nice
2010
Double bind Stop trying to understand me, Villa Arson, Nice
Characters, FRAC Poitou Charente, Angoulême
Color version, José Martinez Gallery, Lyon
2009
+1+2+3+4, La Station, Nice, CCNOA, Brussels, Belgium
UND #5 (Voilà), curators: Tilman (Brussels), Jan van der Ploeg (Amsterdam) and Billy Gru- ner (Sydney), Villa Caméline, Nice
Réveille-toi on est demain, Musée départemental des Hautes-Alpes, Work from the FRAC Paca collection, Gap
2008
The new emerges from the old, Mao, ACMCM Art Center, Fluxus, La Station, Perpignan Subito, La Station, Apricale Castle, Italy
The House, Singular Gallery, Nice
Slick, Stand of the Norbert Pastor Gallery, 104, Paris
2007
Nice to meet you, Mamac, Nice
Duels, Frac Paca, Marseille
Slick, Stand of the Norbert Pastor gallery, Paris
Plus, Laureates of the Vordemberge-Gildewart Foundation, Museum Wiesbaden, Germany IRL, Interface invites la Station, Interface Gallery, Dijon
Commissaire de paille, Le Commissariat, Paris
Démarche Singulière, Roland Berger consultants strategy, Paris
2006
Multiple Art, Espace de l'Art Concret, Mouans-Sartoux L'égosystème, Le confort Moderne invites la Station, Poitiers Cabinet névrotique, South Art, Villa Cameline, Nice
Norbert Pastor Gallery, Nice
2005
Lotissement de cimaises, collection of the Frac Paca, Villa Arson, Nice
Low tech, le Labo, "Temps Réel" room, Villa Arson, Nice
Post'apostrof', the Station, Museo laboratorio di arte contemporanea università di roma "la Sapienza", Rome, Italy
Sleeping head to toe with a stranger, Friche la belle de Mai, Marseille, Carte blanche à la Station
Today or tomorrow, collection of the Frac Paca, at Circa, la Chartreuse de Villeneuve-les-Avi- gnon
La Réserve, Ponchettes Gallery, Nice
Exhibition – sale of artists' multiples, Astérides, Marseille
Neurotic Cabinet, South Art, Villa Cameline, Nice
2004
Nice in Nice, Bernsteinzimmer gallery, Nürnberg, Germany
Black-out (lame de fond), collection of the FRAC Poitou-Charentes, at the Ancien Marché de l'Arse- nal, La Rochelle
Prêts à prêter, Frac Paca, Marseille
2003
On the front, the Triage, Nanterre
2002
Les illusions perdues, FRAC Poitou-Charentes, Angoulême, France Passages, Il Prisma Gallery, Cuneo, Italy
Seen from here, Château de Lauris, Lauris
Voilà la France, curator Andrea Busto, CESAC, Caraglio, Italy New acquisitions, MAMAC Gallery, Nice
Dubuffet e l'Arte dei graffiti, Palazzio Martinengo, Brescia, Italy
C'est pas joli, joli, French Cultural Center of Turin, Chiostro S. Filippo, Turin, Italy
2001
Jolie attaque pour perdre, La Station, Espace des Arts, Colomiers, France Arte Fiera 2001, Stand Galerie Françoise Vigna, Bologna, Italy
Exit 5, Roberto Vitali, Sala Silentium, Bologna, Italy
2000
The Station in Lausanne, ELAC, Lausanne, Switzerland
La Station fait main basse, MAMAC Gallery, Nice
Artissima 2000, Stand of the Françoise Vigna Gallery, Turin, Italy
La Vérité, (organized by Ben) Galerie Mockers, Strasbourg Art-jonction, Stand of the Galerie Françoise Vigna, Nice
Les Dames de la Côte, La Station – Galerie C. Art, Dornbirn, Austria Appartement témoin, Galerie Porte Avion, Marseille
Uomini con baffi in Napoli, Fondazione Morra, Naples, Italy
1999
Officina Europa, Villa di Rosa, Galleria d'Arte Moderna di Bologna, Bologna, Italy
1998
With the participation of, curator Tiphaine Le Bec, Paris
Printemps français, Espace de l'Art Concret, Mouans-Sartoux (Prize of the Vordlem- berge-Gildewart foundation)
Surplus, La Station, Nice
Synthetic Pleasure, Boréalis, Montpellier
Dolce vista, Galleria Neon, La Salara, Bologna, Italy
Full house, Le Centre du Monde, Nice
1997
Adieu monde cruel, Alloncle-la-Rose association, Paris
F. Baudevin, M. Chevalier, L/P, C. Robert-Tissot, La Station, Nice
1996
The title is in the suitcase, Sanguine Gallery, Paris
Not like that, curator Marc-Olivier Wahler, CAN, Neuchâtel, Switzerland Starter, La Station, Nice
18m2, Manu Timoneda Gallery, Aix-en-Provence
1995
Gambit, Évelyne Canus Gallery, La Colle-sur-Loup
Nice by night 3, curator Axel Huber, exhibition in apartments, Nice
1994
Nice by night 2, curator Axel Huber, exhibition in apartments, Nice by night 1, curator Axel Huber, exhibition in apartments, Nice Art Jonction, Stand of the Villa Arson, Cannes
1993
The passers-by of the phalanstery, Villa Arson, Nice
SCHOLARSHIPS, RESIDENCIES
2020
Opening the world, Levens
CATALOGUES (Staff)
2020
The paintings do not exist, Eva Vautier gallery
2007
Semaines, Bimonthly for contemporary art, edited by Analogues,
2005 Marc Chevalier, Céline Flécheux: Marc Chevalier: La limitation de l'imitation, ed. Ulisse & Calipso, Naples, with the support of the Station and the Françoise Vigna Gallery
1995 Marc Chevalier, preface by Jean-Philippe Vienne, Villa Arson, Nice, Galerie La Tête d'Obsidienne, La Seyne-sur-Mer
CATALOGUES (Collective)
2020
Fire walk whith me !IEA Nice and University Cote d'Azur
Ian Curtis like this place, The Abandoned House (Villa Cameline)
2013
Why not… / Why not, City of Pont-de-Claix
2011
Contemporary Art and the French Riviera – A territory for experimentation – 1951-2011, published by Les presses du réel
2007
Plus, Museum Wiesbaden / Stiftung Vordemberge-Gildewart, 2007
L'Egosystème, co-published by Confort Moderne / La Station, 2007
Nice too meet you, Villa Arson / MAMAC Nice, ed Nice Musées 2007
UMAN, City of Nice edition, 2007
Vue d'ici, co-published by association Signé Lauris / Edition du Lubéron, 2007
2006
Multiple Art, Espace de l'Art Concret, Mouans-Sartoux, 2006
A journey, Château du Haut-de-Cagnes, 2006
2005
Low Tech, Villa Arson edition, Nice, 2005
La réserve, text by Catherine Macchi : Subpictural : Publiatrucs, Galerie des ponchettes, Nice, 2005
Prêts à prêter, collection Frac paca 2000 /2004, text by Sylvie Coëllier : Une bonne prise…! ?, co-publication Frac paca, Ithme éditions, 2005
2004
Marc Chevalier in cat " 72 (projets pour ne plus y penser) ", coed Frac paca, Espace Paul-Ricard, Cneai
Marc Chevalier in cat " Ben/ La Station ", Espace des art (Colomiers) / La Station, 2004
2002
in cat Dubuffet e l'arte dei graffiti, ed Mazzotta 2002
2001
Exit 5, Renato Barili, Roberto Daolio, Valerio Deho, Gaetano Buttaro…, Roberto Vitali, edisai srl, Ferrara, January 2001
La Station fait main basse, preface by Gilbert Perlein, Enrico Pedrini : La Station comme agrégation dynamique…, Petra Schelm : Quand création rime avec passion, MAMAC, Nice, 2001
2000
Utopie concrète, 10 years, twenty-nine exhibitions, Espace de l'art concret, Mouans-Sartoux, September 2000
1999
Officina Europa, Bologna-Imola-Cesena-Rimini, Renato Barilli: A Check-up alle soglie del duemila, Galleria d'Arte Moderna di Bologna, Bologna, 1999
1997
Culture and business, text by Catherine Macchi, Aix-en-Provence, 1997
1996
Non pas comme ça, preface by Marc-Olivier Wahler, CAN, Neuchâtel, 1996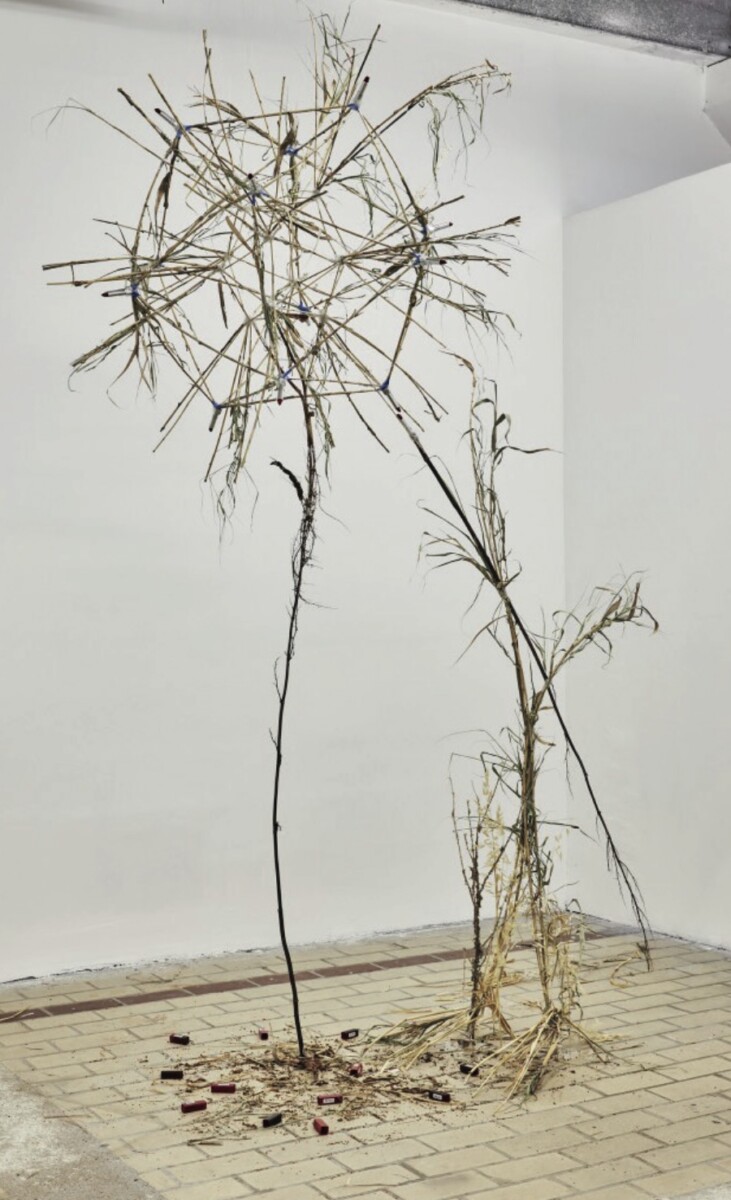 Défloraison Rouge-Pomme, 2022 Collection FRAC Poitou-Charentes
La fleur qui plaisait tant à mon cœur désolé, 2022
Marc Chevalier, "Deux mètres cinquante par deux mètres soixante sept", 2015, 18 x 21 cm
Marc Chevalier, "Living room", 2020, 185 x 435 cm
Marc Chevalier, "Instant permanent", 2017, 20 x 20 cm
Marc Chevalier, "Les arcanes du joli", 2020, 150 x 220 cm