Ben Vautier
We are all crazy
Exhibition Currently
International Museum of Naive Art Anatole Jakovsky, Nice
From May 5, 2023 to May 6, 2024
The City of Nice welcomes We are all crazyan immersive exhibition by Ben, extending the 500 m2 of the Musée International d'Art Naïf Anatole Jakovsky from May 5th 2023 to May 6th 2024.
The exhibition On est tous fous (We're all crazy) creates a dialogue between Ben's works, his collection and the collection of Anatole and Renée Jakovsky, presented in their former home, transformed into a museum since 1942. The exhibition extends into the apartments of the Jakovskys, giving a new atmosphere to the Museum of Naive Art with a musical background by Erik Satie.
Throughout the visit, Ben questions us on the notions of ego, beauty, ugliness and the Artist. Through a rich program and a plurality of mediums, its interrogations are in turn paintings, photography, films, sculptures, performances and debates. With this exhibition, Ben opens the doors to a more intimate part of his life where friends and family are present and surround him, making his life an art.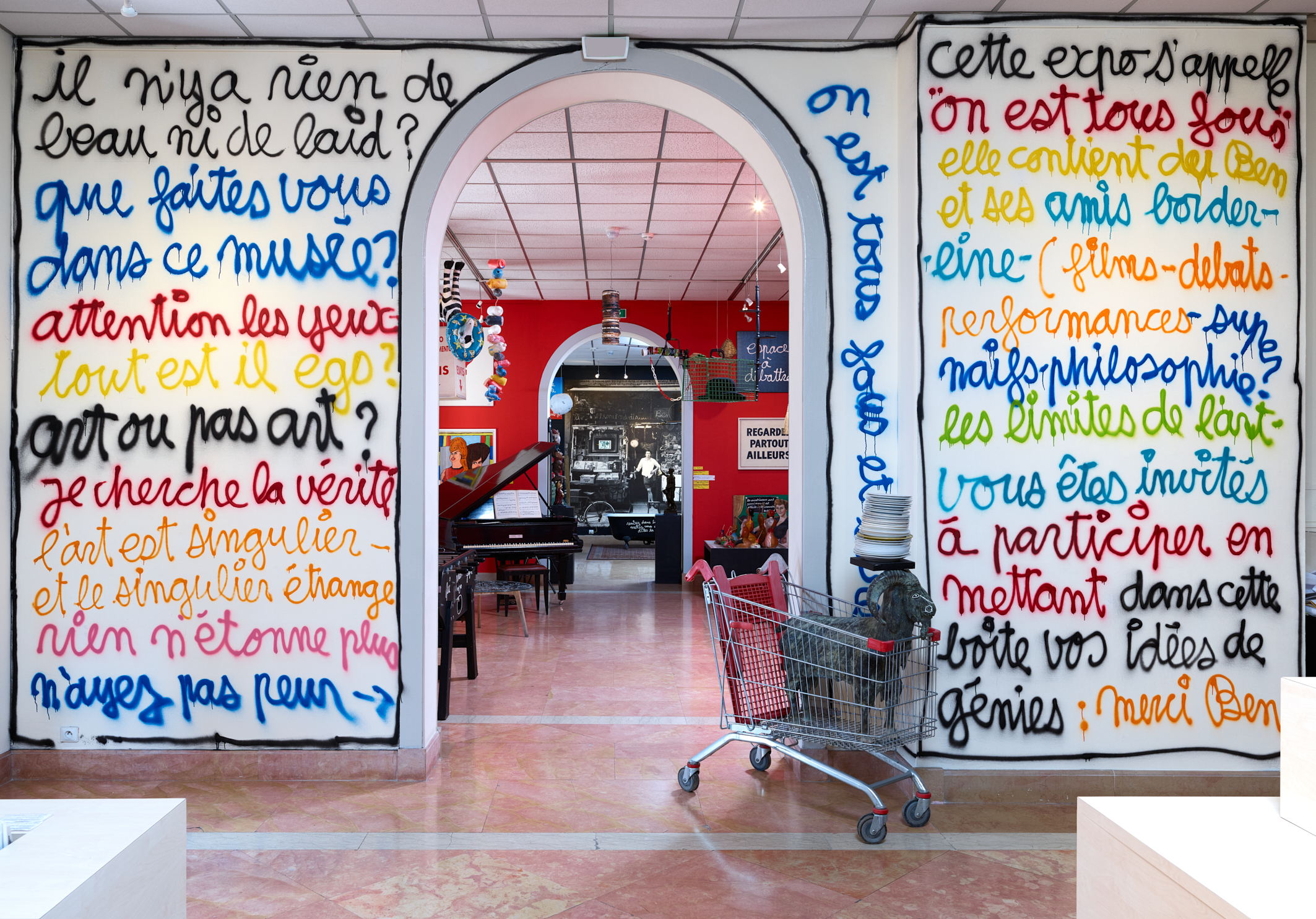 Ben (Benjamin Vautier) "On est tous fous" 2023 vue exposition
Ben (Benjamin Vautier) "On est tous fous" 2023 vue exposition
Ben (Benjamin Vautier) "On est tous fous" 2023 vue exposition
Ben (Benjamin Vautier) "On est tous fous" 2023 vue exposition
Ben (Benjamin Vautier) "On est tous fous" 2023 vue exposition
Ben (Benjamin Vautier) "On est tous fous" 2023 vue exposition
Exhibition views © François Fernandez
"I START FROM THE PRINCIPLE THAT EVERY ARTIST HAS A TOUCH OF MADNESS THAT HE'D LIKE TO SHOW, BUT DOESN'T DARE".
The tone is set right from the entrance. Ben's paintings come into "dialogue" here and there with those from Anatole Jakovsky's original collection, reflecting a certain intellectual ferment that characterizes both host and guest artist. Coincidentally, Ben was present at the museum's opening 40 years ago!
No introductory cartel at the entrance. Ben freely inscribed this sentence in a cursive script recognizable among many others, with a light hand guided by his creative "genius" and sometimes in interaction with amused and amazed museum visitors.
The installation took three months, and some of the works were made on site. It was punctuated by a series of furnishings carefully selected by Ben
Ben's universe is presented in a succession of moments that, from his "small ideas" to "new writing", "sculpture", "photography", "time" and "death", present a kaleidoscope of his most current achievements.
A small living room, a bedroom and dressing room, a bathtub, table soccer, tables and chairs for conversation, a projection corner, a podium for debate, background music by Erik Satie, a stairwell reinterpreted by Ben and christened the "psychiatric staircase". Outside, in the gardens and terrace, works by Ben and from his private collection explore the theme of madness and art. Its "ring" is ready for performances.
The exhibition will be accompanied by a year-long program of events featuring film screenings, unexpected encounters, performances, evenings of madness and philosophy for a unique, immersive experience, with guests taking over both the villa and the gardens.
This exhibition has been organized with the support of La Poste, which will be issuing a stamp to mark the occasion and offering a mail art space in the museum for the duration of the exhibition.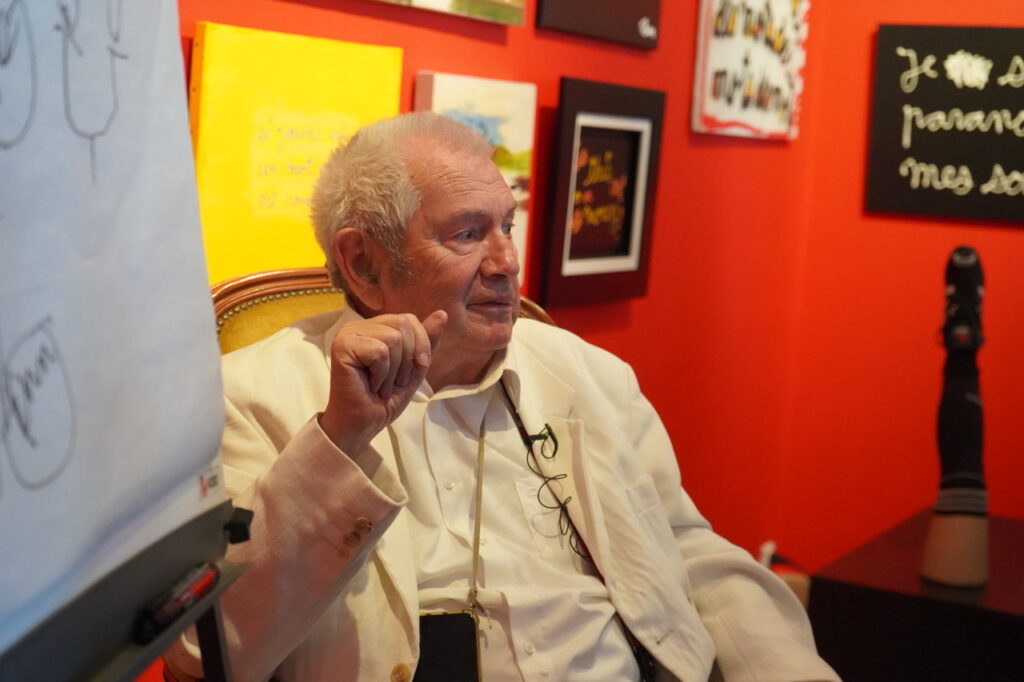 Photo © Galerie Eva Vautier
BEN is the pseudonym of Benjamin Vautier. The artist, born in 1935 in Naples, Italy, is a French artist of Swiss origin. He became a household name in the late 1960s. Part of the post-modern artistic avant-garde, BEN is one of the main founders of the Fluxus movement. Internationally acclaimed for his performances, installations and distinctive style, his work can be found in numerous French and international collections.