ORLAN
Women who cry are angry
From November 24, 2021 to January 15, 2022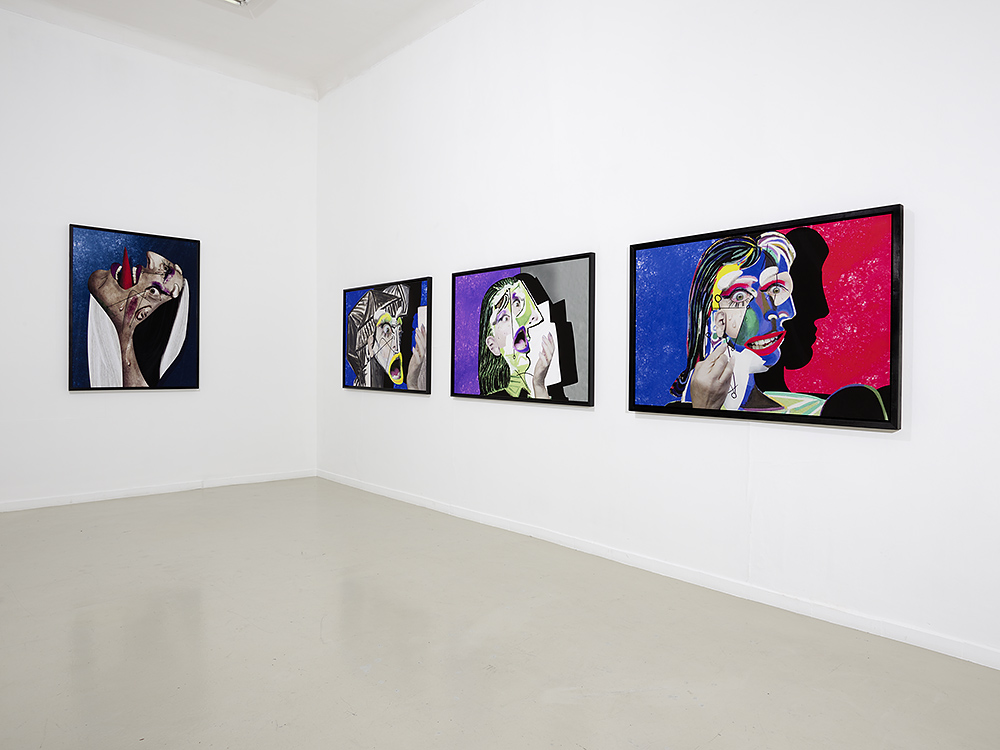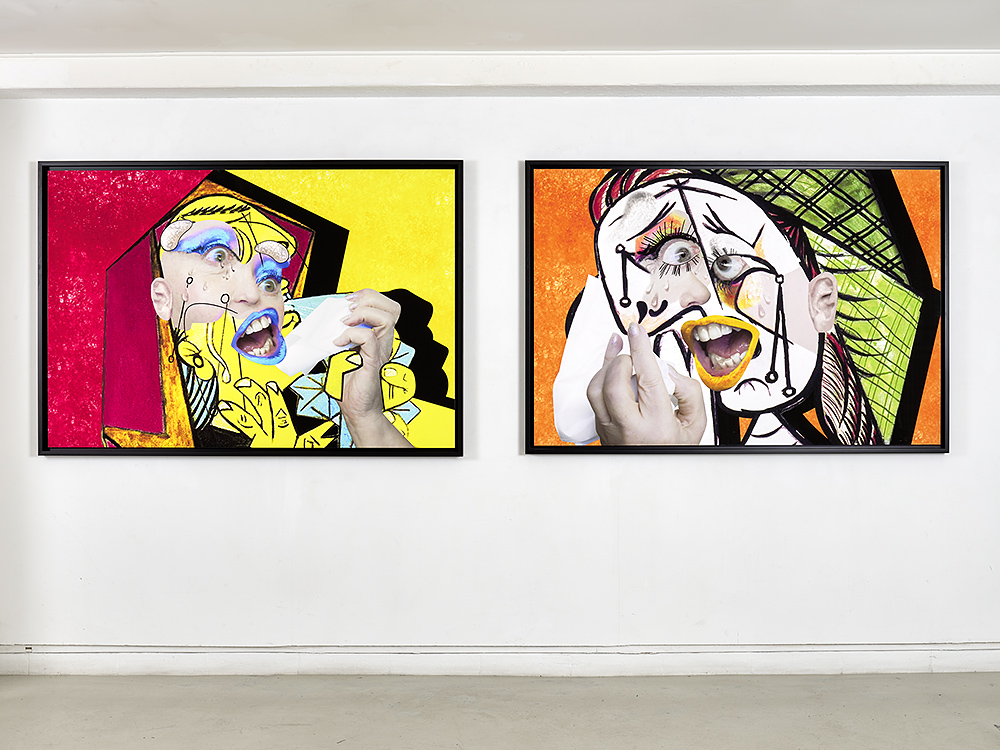 ORLAN, Views from the exhibition, Les femmes qui pleurent sont en colère, December 2021, Galerie Eva Vautier © Photo François Fernandez
ORLAN is one of the greatest French artists recognized internationally. It is not subject to a material, a technology or an artistic practice.
She uses sculpture, photography, performance, video, 3D, video games, augmented reality, artificial intelligence and robotics (she has created a robot in her image that speaks with her voice) as well as scientific and medical techniques such as surgery and biotechnology… to question the social phenomena of our time)
"WOMEN WHO CRY ARE ANGRY" IS A NEW SERIES OF HYBRID PHOTOGRAPHS THAT I CREATED TO SHOWCASE THE WOMEN OF THE SHADOWS: THE INSPIRERS, THE MODELS, THE MUSES. THEY HAVE ALWAYS PLAYED A MAJOR ROLE IN THE REPUTATION OF OUR GREAT MASTERS.
I QUESTION THE POSITION OF THE WOMAN IN THE CONTEMPORARY ARTISTIC SPHERE AND QUESTION THE STATUS OF THE BODY VIA ALL THE CULTURAL, TRADITIONAL POLITICAL AND RELIGIOUS PRESSURES THAT ARE PARTICULARLY IMPRINTED ON THE FEMALE BODY.
I INSERT FRAGMENTS OF MY FACE, INCLUDING MY SCREAMING MOUTH, SO THAT THE ANGER IS EXPRESSED IN THE WORK
THIS NEW SERIES OF HYBRIDIZATIONS FROM PICASSO'S PAINTINGS OF DORA MAAR IN TEARS IS A DESTRUCTION-RECONSTRUCTION AND CREATION OF THE FEMALE FIGURE THAT KALEIDOSCOPIES THE WORLD IN WHICH SHE IS MIXED.
MY CREATIONS, ALL POLITICAL AND FEMINIST, ARE BASED ON A VISUAL SEARCH FOR FACES OF HORROR, FEAR AND GRANDEUR. PICASSO OBJECTIFIES DORA MAAR. I REREAD PICASSO'S WORK TO PUT THE WOMAN-SUBJECT BACK AT THE CENTER.
BETWEEN PAINTING AND PHOTOGRAPHY, TEARS AND ANGER, MY FEMALE FIGURES ARE HYBRIDIZED AND DISALIENATED IN A PICTORIAL FORM THAT I CREATE AS BRUTAL COLLAGES EXTREMELY FREE AND UNRESTRAINED.
Sunday, November 13, 2019
On the first floor of the Eva Vautier Gallery, ORLAN REMIX will be presented, a film commissioned by SOS Racisme. She chose to remix a sequence from the film " Clair de femme ", based on the book by Romain Gary in a moment of the film where Yves Montant is waiting for Romy Schneider who does not come.
Jokes of counter are exchanged where one "pays" Belgian and Japanese…
ORLAN shaking a shaker, advises us to hybridize and finally makes his own cells dance on a paso-doble vinyl, triggered by the chimpanzee to make a pink poodle dance.
ORLAN
ORLAN REMIX : Romain Gary, Costa-Gavras, Deleuze and Guattari, 2010
French, 2'42".
Produced and directed by ORLAN.
The women who cry are angry, 2021 Jannink Editions
On the occasion of ORLAN's exhibition at the Eva Vautier gallery, we are re-editing, with Jannink Editions, Les femmes qui pleurent sont en colère.
ORLAN
Women who cry are angry, 2021
Book 78 pages
Jannink and Eva Vautier Editions
21 x 29.7 cm
Public price : 26,00 €.
[qbutton icon_pack="" target="_blank" font_weight="" text="Je commande" link="http://eva-vautier.com/boutique/les-femmes-qui-pleurent-sont-en-colere-2021/"]
OFF-SITE PROGRAMMING
ORLAN is the guest of honor of the OVNi 2021 Festival
WindsoR Hotel
from 15/10 to 31/01 | Exhibition ORLAN, Le Plan du Film, as part of the OVNi festival
The 109
from 19/11 to 05/12 | Video ORLAN, La liberté en écorchée, Video, 3,20min, 2015, presented as part of the OVNi 2021 Festival.
FNAC Nice
19/11 at 5pm | Signing of ORLAN's book, STRIP-TEASE, TOUT SUR MA VIE, TOUT SUR MON ART, Gallimard, Collection "Témoins de l'art", Paris, 2021
National Theater of Nice
21/11 at 5pm | STRIP-TEASE D'ORLAN with Maurice Fréchuret, Muriel Mayette and Alain Quemin, conducted by Gérard Holtz.
[qbutton icon_pack="" target="_blank" font_weight="" text="Dossier de presse" link="http://eva-vautier.com/wp-content/uploads/2021/11/Galerie-Eva-Vautier_DOSSIER-DE-PRESSE_Exposition_ORLAN-2021-8.pdf"]
[qbutton icon_pack="" target="_blank" font_weight="" text="Revue de presse" link="http://eva-vautier.com/wp-content/uploads/2021/12/Galerie-Eva-Vautier_REVUE-DE-PRESSE_Exposition_ORLAN-2021-5.pdf"]