Natacha Lesueur
No more sticky hair
(even in humid weather)
Exhibition from January 29 to March 26, 2022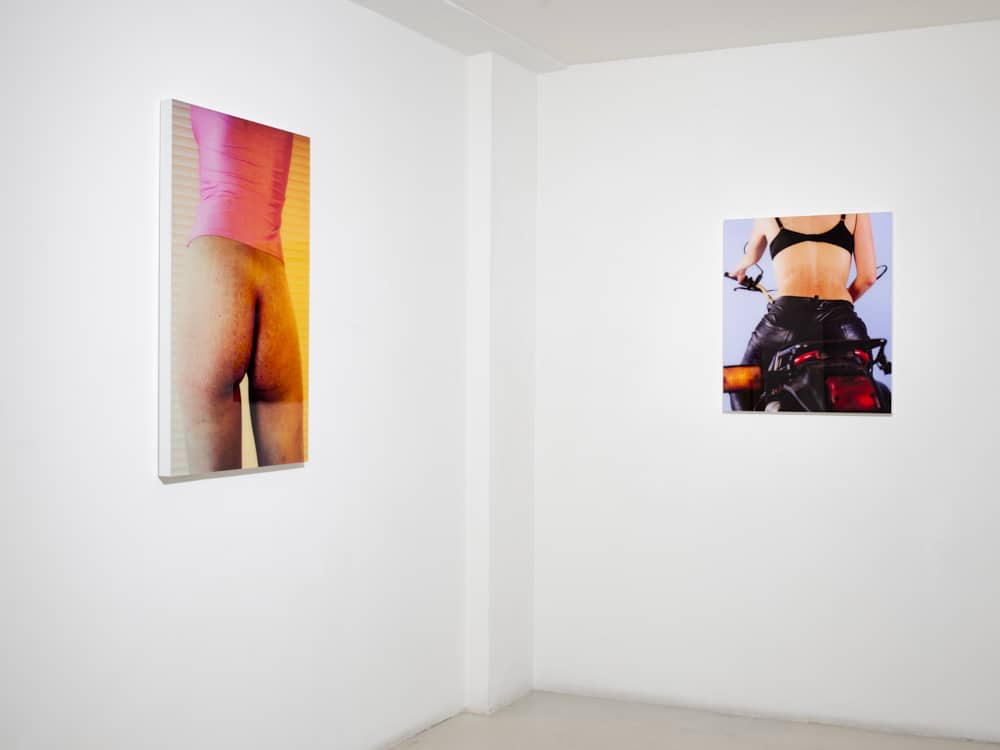 Exhibition views, Natacha Lesueur, No more sticky hair (even in wet weather), Galerie Eva Vautier, 2022 © Photos François Fernandez
The Eva Vautier Gallery is pleased to present Natacha Lesueur's exhibition, Never again sticky hair (even in wet weather), echoing her retrospective at the Villa Medici (Rome), Comme un chien qui danse.
Natacha Lesueur invents new images. Their singularity lies in the strangeness that inhabits them. The faces and bodies she represents are almost always those of female models. Through various processes, she subverts her characters and portraits by introducing chimeras. Their plastic strength places them at the confluence of painting, sculpture and performance.
VIRTUAL VISIT OF THE EXHIBITION
In the exhibition No more sticky hair (even in wet weather), the artist develops his research on the representation of the female body by comparing two series: Empreintes (1994-1996) and Les humeurs des fées(2020).
Between 1994-1996, in resistance to a vast system of model images, deconstructing coded appearances and ideal femininities, Natacha Lesueur marks her models with childlike prints. The process of reappropriation of the female nudity passes by a fragmentation, a cutting of the bodies, thus opening with a visibility by avoiding to objectify them.
In 2020, the artist resumed his photographs with graphite pencil. Reacting to the abundance of female faces and their printed, plastered, digital images, she offers a vision of faded wives in grisaille, between sketch and ghostly apparition. The drawing thus opens a timeless dimension to the image of the bride, inviting us to explore the complex and powerful identity of this female archetype.
The dialogue presented between Natacha Lesueur's works from the 90's and the most recent ones, develops her study, constantly updated, on the female identity, the appearance, the pomp and the relation to the intimate.
On the gallery floor, Natacha Lesueur invites Louise Fauroux, Jean-Baptiste Georjon, Alisson Schmitt, and Margot Sparkes.
Five videos, witnesses of the evils of our society: between digital immortality, transhumanism and injunction to the appearance, this quadruple glance appropriates the new technologies to deliver their visions.
The exhibition of these works is made possible thanks to the loan of the FRAC Poitou-Charentes.
[qbutton icon_pack="" target="_self" font_weight="" text="Dossier de presse" link="http://eva-vautier.com/wp-content/uploads/2022/01/Galerie_Eva_Vautier-DOSSIER-DE-PRESSE-NATACHA-LESUEUR-Plus-jamais-de-cheveux-collants-meme-par-temps-humide-2.pdf"]
[qbutton icon_pack="" target="_self" font_weight="" text="Revue de presse" link="http://eva-vautier.com/wp-content/uploads/2022/02/Revue-de-presse-Natacha-Lesueur-2.pdf"]