FREE FIGURATION
BEN
Jean-Michel Alberola
Jean-Charles Blais
Rémi Blanchard
François Boisrond
Robert Combas
Group Ten 10
Hervé Di Rosa
Richard (Buddy) Di Rosa
Philippe Hortala
Total Mission
Catherine Viollet
Exhibition from October 20 to December 1, 2018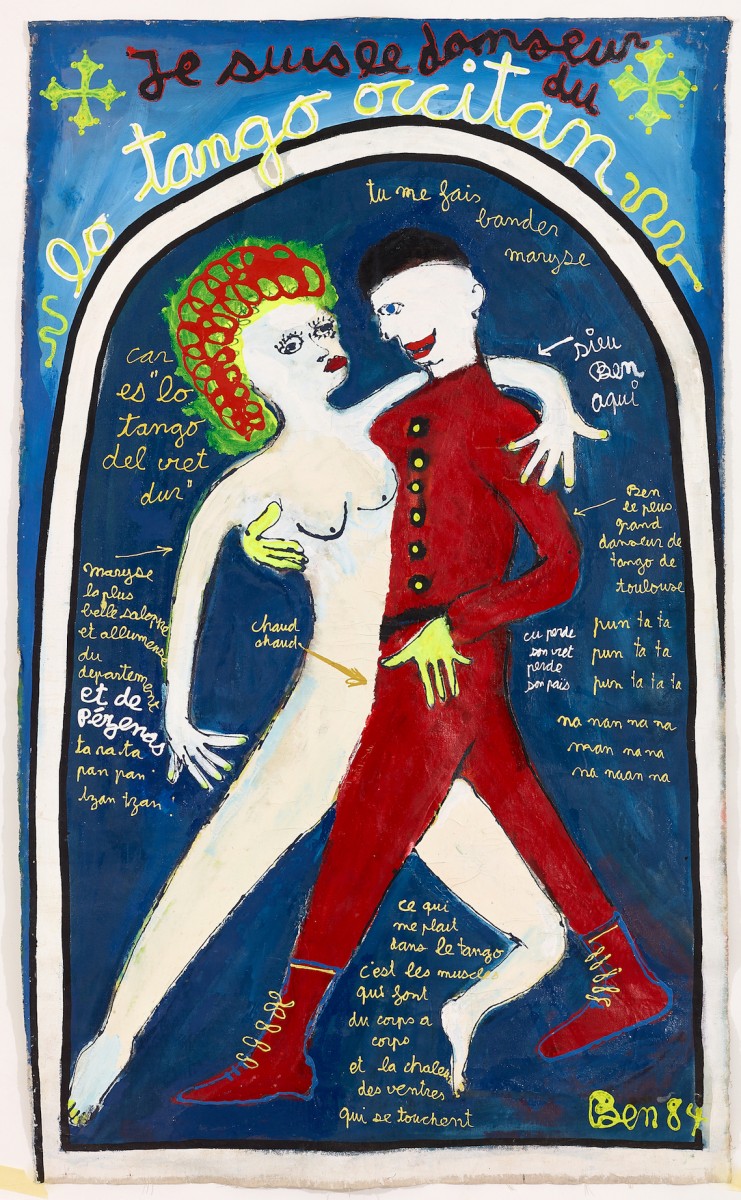 BEN Vautier, The Occitan Tango, 1984
The "Figuration Libre" tells the episodes of a history of the beginnings of the decade, of a moment of political and social thaw, of celebration, of fun, testifies to a non-academic production, provocative, vital, energetic, impulsive … which refuses the theory, the organized groups, the manifestos, the standards. In France, Ben gave a name to this freedom, "Figuration Libre", and a declaration: "Free to do what? / Free to do ugly / Free to do dirty / Free to prefer the graffiti of the New York subway to the paintings of the Guggenheim / Free to have an indigestion of Supports/Surfaces / Free to say "Ben's linear history of art, fuck it! "Free to prefer to spend the night in a nightclub than to listen to Sollers / Free to want to redo Matisse, Picasso, Bonnard / Free to sing "Maréchal nous voilà" or "Viens Poupoule, viens" / Free to like Mickey Mouse, comics and not Lacan / Free to not give a damn if someone says to you: you copy / Free to say: "Carpaccio, don't know! " / Free to sell for money / Free to paint his dick in action / Free to paint on anything." Ben, Figuration Libre, 1982.
"Figuration Libre" is an art born from popular culture, in the street, in the urban environment, in clubs, as much as in workshops and rarely in schools. A rock and punk art. Which distances itself from minimal art, from the conceptual art of language, discourse, process, from Arte Povera or Supports-Surfaces of previous decades.
We live ten years of ebullitions and exchanges with the "Figuration Libre", the collectives and the media painters in France, the Nouveaux Sauvages in Germany, the Nouveaux Artistes in Russia, the graffiti in the USA… Their culture makes that they expose together or in the same galleries, realize works, music in common.
In France, the name "Figuration Libre", very open at the beginning, is refocused around a group formed by Remi Blanchard, François Boisrond, Robert Combas and Hervé Di Rosa, extended to their closest friends: Richard (Buddy) Di Rosa and Louis Jammes. Catherine Viollet exhibits with them from the beginning, makes works in common, their portraits, without their collaboration being anchored in time. In the same vein are those whom Ben calls "satellites": himself in Nice, Philippe Hortala in Toulouse, Mission Totale in Monaco.
Richard (Buddy) Di Rosa testifies, "The group of friends we were was seen as the bearer of a new movement; and it's true that the art world needed to recognize itself in something new, unexpected, provocative. "
Pascale Le Thorel, excerpt, "Libres Figurations années 80", Exhibition catalog, Fonds Hélène et Edouard Leclerc pour la Culture
Exhibition "Figuration Libre", Robert Combas, Jean-Charles Blais, François Boisrond, Ben Vautier
Photo credit François Fernandez
Free Figuration" exhibition, Mission Totale, Groupe Dix 10, Rémi Blanchard
Photo credit François Fernandez
Exhibition "Figuration Libre", Hervé Di Rosa, Jean-Michel Alberola, Richard Di Rosa
Photo credit François Fernandez
Exhibition "Figuration Libre", Philippe Hortala, Robert Combas
Photo credit François Fernandez