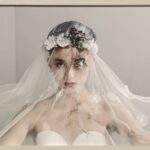 Online exhibition – Artsy
GROUP EXHIBITION
Tom Barbagli, Pierre Fisher,
Gérald Panighi

Galerie Lara Vincy, Paris 6
From October 14 to November 19, 2022
Opening on Thursday, October 13 from 6:00 pm

Participation in
A Sunday at the Gallery

organized by the CPGA, Sunday, October 16 from 2:00 to 6:00 pm
Tom Barbagli
Born in 1990 in Nice.
Lives and works in Nice.
Tom Barbagli realizes technological or mechanical devices, he reveals the aesthetics of systems or natural phenomena, which he reproduces in installations sometimes miniature, sometimes immersive, referring to spatial, stellar, planetary images. The mechanics of forces or fluids, thus launched in an infinite movement, by gravitation, rotation or tension, invokes the contemplation of a world or micro-universe.

Pierre Fisher
Born in 1983 in Paris.
Lives and works in Cahors.
Pierre Fisher paints. After experimenting with sculpture and collage for many years, he chose to return to this traditional medium. The images from vintage magazines that he juxtaposed in his collages are meticulously transferred and enlarged on the surface of the canvas. They are not paintings in the primary sense even if the works take the form of it, but rather collages of images made with a brush.

Gérald Panighi
Born in 1974 in Menton.
Lives and works in Nice.
Gérald Panighi's work is an interdependent association between a carefully neglected image with strong reference and a text diverted from everyday situations. The discrepancy between the two provokes laughter or a smile. Gérald's humor is often abrupt, sometimes black, emphasizing our humanity and our imperfections, sending us back to our own reflection through the prism of his vision.
Gérald Panighi, Complexity is bad for you my love, 2013