"The collage conceals a potential of surprise, it is by essence composed by several hands…
To find in the drawing this part of outside to oneself which provokes sometimes crucial chances is the objective…
To cling to the medium as one clings during a shipwreck to the first floating object that passes by and will (perhaps) bring us back to shore in a place we never imagined.
An alternative to a know-how that can be swirling but always ends up in the same place.
Emancipate the images from their first meaning, take the drawing out of its condition so that it does not remain prisoner of the "pencil stroke"…
I'm more interested in every escape attempt, even if it fails, than a well-decorated cell."
Philippe Jusforgues, October 2013
,
It was in 2005, when he came across a suitcase of family photo prints, that Philippe Jusforgues found the opportunity to experiment with collage.
"It was like a game… I would change a face and the whole image would be turned upside down… The realism of photography and the lightness of drawing were combined… My characters took flesh and my palette of emotions became wider… "
His minimalist approach often involves an amateur photo onto which is added a printed document, a drawn fragment, or directly applied ink revealing an unexpected link that gives them a second life. A form of poetic recycling…
In 2005, when Philippe Jusforgues came across a suitcase full of old family photos, he began to experiment with collage.
"It was like a game. I could change a face and the whole image would be transformed. The realism of photography and the lightness of drawing mixed together – my characters became real and the range of emotions became larger… "
His minimalistic approach more often involves an amateur photo, that he then adds printed document, a fragment of a drawing, or ink directly applied, which give the original piece a second lease of life. A form of poetic recycling… "
Untitled, 2013, collage on photograph, 17.5 x 23.5 cm
,
,
Untitled, 2013, collage on photograph, 18 x 24 cm
,
,
Untitled, 2013, collage on photograph, 16 x 21.8 cm
,
,
Untitled, 2013, collage on photograph, 18 x 24.4 cm
,
,
Untitled, 2013, collage on photograph, 26.4 x 20.8 cm
,
,
Untitled, 2013, collage on photograph, 24 x 30 cm

Untitled, 2013, collage on photograph, 18 x 24 cm
,
,
Untitled, 2013, collage on photograph, 12 x 18 cm
,
,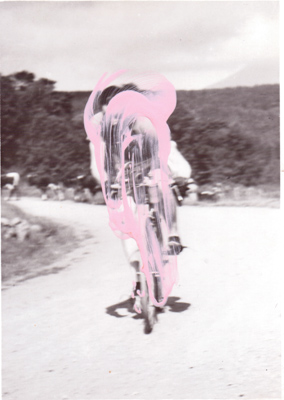 Untitled, 2013, gouache on photograph, 18.5 x 13.5 cm
,
,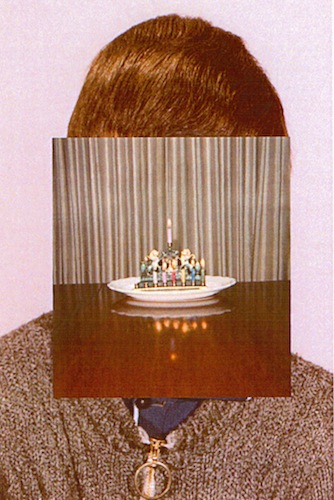 Untitled, 2013, collage on photograph, 40 x 60 cm
,
,
Untitled, 2013, collage on photograph, 24 x 18 cm
INDIVIDUAL EXHIBITIONS
2010
FIAC : Represented by the Gallery 1900-2000
La Petite Mort Gallery – Ottawa
Todos Muerto – Eat Meat Gallery – Barcelona
2009
Serial Gluer – Gallery 1900 – 2000
Art Brussels – Gallery 1900 – 2000
2008
Paris Photo : represented by Galerie 1900-2000
Heartfield-Jusforgues – Gallery 1900-2000
2007
Paris Photo : Represented by Galerie 1900-2000
2006
Heartfield-Jusforgues – Gallery 1900-2000
AIPAD New-York ( Stephen Daiter Gallery )
2005
Paris Photo : Represented by Galerie 1900-2000
FIAC : Represented by the Gallery 1900-2000
Stephen Daiter Gallery – Chicago
Galerie Gismondi Pastor – Monaco : Collective Exhibition
Art Basel : Represented by Galerie 1900-2000
Gallery 1900-2000 – Paris
GROUP EXHIBITIONS
2006
Stephen Daiter Gallery – Chicago
2005
Gismondi Pastor Gallery – Monaco