Kepler 186f, a mysterious and ambitious title. What can he be hiding?Kepler is Johannes Kepler, a sixteenth-century German mathematician, astronomer and astrologer. It was he who determined that the planets orbit in an ellipse around the sun. He also demonstrated that their speed depended on the distance from the sun and described the movement of each planet around our sun.Kepler is also a NASA telescope that was put into orbit in 2009, its mission: to detect exoplanets. It broke down in 2013.Kepler 186f is the first Earth-sized exoplanet located in the habitable zone of the Kepler 186 sun. It could have water in liquid form, a sine qua non condition for the presence of life as we know it. It was in April 2014 that the false twin of our Earth was revealed to the world, to our world.What does this have to do with Kristof Everart's work, you might ask? Will he offer us his vision of this planet? Illustrations of his landscapes? From his campaigns? Its cities? Show us its inhabitants? Not really.Everart's latest works explore territories, their borders, boundaries and expanse, the passage from one territory to another, from one space to another, from one concept to another. Kepler 186f is the fantasized other, the inaccessible other, the other where everything is unknown, everything is possible. This is the main thread of this exhibition.
It is beyond the overlaps, Transformations of his exhibition at the Galerie des Ponchettes during the winter of 2009. It tells a story of experiences and feelings. To do this, the Eva Vautier Gallery has been transformed, it now houses a new world. The traffic is modified, new areas are born.On the first level, the top of a mountain, the passage of a desert pass, in front of it, blocking it, a sculpture posed, luminous, a turning point and here we are in front of big paintings, moving landscapes, spots of paintings, clouds, nuances, forms to be distinguished, inviting to contemplation. An atmosphere between two states, sobriety, lightness, an abstraction at the limit of the figuration which tells us a surrealist story, a construction of the chance decided by the Architect of this world.
Upstairs, air, drawings, suspended trees, carved wood, a traffic node leading to treasures arranged here and there, a light score, music improvised by Dorian Casacci, the artist musician invited by Kristof Everart, who proposes a reading and a sound illustration of this enigmatic world. A world where, as in Twin Peaks, "there is always music in the air" and appearance can be deceiving.More than an exhibition, Kepler 186f is a proposal, a crossing of familiar territories, that a shift makes us unknown, near and far, within reach of hand and mind. A plastic reflection on what surrounds us, on our perception, our apprehension and our sensations.
Anne-Sophie Lecharme
Born in 1966, Kristof Everart lives and works in Nice.
---
2014
Kepler 186, Eva Vautier Gallery
The drawing is it a political act, at Jean Paul Aiache.
,
2013
Kim Jung Hung, at Anne Sophie Lecharme, Nice.
,
2012
Performance debate / time and action, Villa Arson, Nice.
Exhibition, Espace Viershaft, Cologne.
Manké Festival 2012, Red November, Cedac de Cimiez,
Organization and presentation of a sound work.
Manual screen printing edition – Private order.
Edition Catalogue edition, (curator) Régis Durand.
Cine-Concert with The Electric Eels, Nice
Contemporary Art and the French Riviera – A Territory for Experimentation, 1951-2011."
Group exhibition Time for action / Act 1.
A research on the history of performance, Villa Arson, Nice.
,
2011
Ici Nice / Group exhibition – Le sang neuf – Nice.
Collective exhibition in the framework of Nice 2011 / Hotel Windsor.
Exhibition / performance / Villa Arson 2011,
Private commission – installation in situ – Viershaft, Cologne.
Concert Power trio / Frédérik Brandy (Ciac), Marcel Bataillard, Nice.
Outing, performance by Les Insupportables, opening night of the In & Out Festival, Nice.
Les jeudis Insupportables performances at Bar des Oiseaux, Nice.
,
2010
Selection 1% artistic College Roquefort les Pins/ Conseil Général des AM.
Annual" exhibition commissioned by the Windsor Hotel. Nice
Biennial of the Umam, castle of Cagnes sur mer, museum of contemporary art.
Group exhibition Festival du Peu, Bonson.
Group show at Elisha Graham, New York, (art school residency)
Exhibition space fractals, time of displacement, Faculty of Science, Nice.
Exhibition Transformations, first period " Galerie des Ponchettes , Nice
Curator: Régis Durand, and the urban planning laboratory of the Faculty of Science of Nice
Group show at Elisha Graham, New York, (art school residency)
1st prize in the Google street photography contest. Villa Arson.
,
2009
Group exhibition Made in Belgium. Sandrine Mons Gallery, Nice.
Exhibition – "residence". Contemporary art space Le15, Nice.
Exhibition / invitation C.i.a.c, homage to R.Hains.
Palais de Tokyo. Collective exhibition photography / Free images.
Collective exhibition / International Center of Contemporary Art of Carros.
Exhibition – recovering painting – Caterina C.Gualco Gallery, Genoa, Italy
Group exhibition / J Da / Cité international des Arts de Paris.
,
2008
Exhibition the object of desire, Caterina Gualco Gallery, Genoa.
International Design Biennial. Genoa.
Group exhibition, Mora Ferenc Museum of Contemporary Art, Szeged, Hungary.
Exhibition " Jugement de valeur", Centre international d'art contemporain de Carros.
Group exhibition, Pusan Museum of Contemporary Art, Korea. Curator Frédéric Brandy /Ciac.
Performances with the Unbearable.
As part of Guignol's Band, and Power Trio :
Guignol's Band : " formed by Marcel Bataillard and Frédérik Mao Brandi, joined at the end of 1997 by Kristof Everart, proposing performances of picturo-musical terrorism, on the basis of subjects chosen for their good taste ".
Power Trio : " exclusively musical formed by Frédérik Mao Brandi, Marcel Bataillard and Kristof Everart and celebrating, in a "New New Orleans" style, the marriage of violence and your freedom.
,
2006
Performance for the night of the galleries T.V. set
,
2006
Performance american beauty, May 1st party, at the Cgt, Nice
,
2004
Salon des refusés de la foire de Nice, Mars aux musées, Faculté Saint- Jean d'Angely, Nice
September 26, Power Trio concert at Jürgen Waller's, Vallauris, tribute to John Cage
,
2003
Power Trio concert, Louis Nuçéra library / Auditorium.
Sound performance / Bertrand Tavernier "Mississipi Blues
Cutting of 40 dolls. Mamac, Fluxus in Nice The 40 years of Fluxus,
Performance at the Dominican Church, (sympathy for the devils).
Manké Festival – Power Trio and Guignols Band reunited.
,
2002
Manké Festival – Power Trio
,
2001
Typology of the cuckold, (Fourrier), on the occasion of a "For or against" at Ben
,
2000
Nuit Bleue, Manké Festival, contemporary music festival, Bar des oiseaux, Nice.
Un siècle de musique française, de Maurice Ravel à Serge Gainsbourg, Harmonia Mundi, Nice.
,
2000
Zone Jaune, Manké Festival, contemporary music festival, Bar des oiseaux, Nice.
,
1999
The long walk, at Ivana Milovic, Saint-Paul.
,
1998
Funeral of the new School of Nice, Aspremont.
,
1999
A star Sunday, at Ivana Milovic's, Saint-Paul.
History will acquit me, Spring of the poets, Galerie des Ponchettes.
,
1998
Dio vi salvi Regina, Aspremont.
Pavane pour une infante défunte, Renoir Gallery, Nice.
Homage to Beethoven, Galerie des Antiquaires, Nice.
Poetic structure of the world, 2014
Mixed media, Variable dimensions
The Strenna or the sexangular snow, 2014
Poly-extruded sculpture, 220 x 235 x 263 cm

Astrologicus, 2014
Vegetation, 120 x 160 x 140 cm
Travel flows, 2012
Electric wire, 120 x 190 cm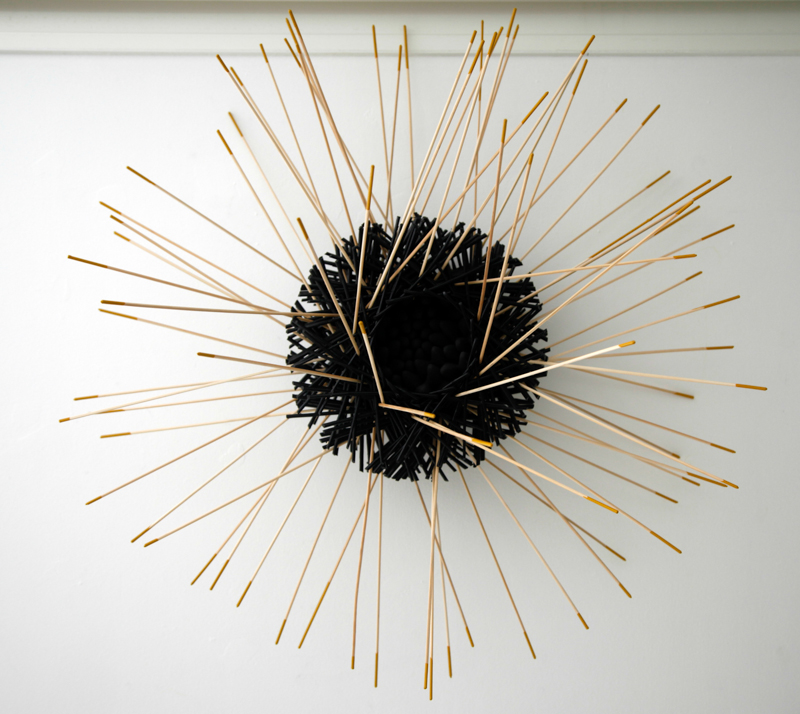 Untitled, 2013
Mixed media, 78 x 78 x 42 cm
Untitled, 2014
Original drawing, pencil drawing on wooden board, 70 X 50 cm
Find the silkscreen prints on the gallery's store
–
–
Kristof Everart, Untitled, 2014, 23 x 33 cm
Monochrome silkscreen on Velin d'Arches 250g paper,
Edges fringed with torchon grain, Edition of 25 proofs numbered from 1 to 25
–
Kristof Everart, Chestnut tree without a roadman, 2014,
Nice 50 x 40 cm, Two color silkscreen
on rag paper. Fabriano 300 gr Edition 25 copies