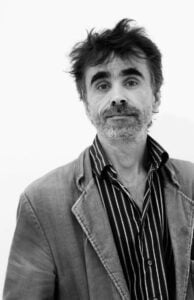 « Le collage recèle un potentiel de surprise, il est par essence composé par plusieurs mains…
Retrouver dans le dessin cette part d'extérieur à soi qui provoque des hasards parfois cruciaux est l'objectif…
S'accrocher au médium comme on s'accroche lors d'un naufrage au premier objet flottant qui passe et nous fera (peut-être) regagner la rive à un endroit qu'on imaginait pas.
Une alternative à un savoir-faire qui peut être tourbillonnant mais finit toujours au même endroit.
Emanciper les images de leur sens premier, sortir un peu le dessin de sa condition pour qu'il ne reste pas prisonnier du «coup de crayon»…
Chaque tentative d'évasion, même ratée, m'intéresse d'avantage qu'une cellule bien décorée. »
Philippe Jusforgues, octobre 2013
,
C'est en 2005, tombant sur une valise de retirages de photos de famille, que Philippe  Jusforgues trouva l'occasion d'expérimenter le collage.
« C'était comme un jeu… Je changeais un visage et toute l'image en était bouleversée… Le réalisme de la photographie et la légèreté du dessin étaient réunis… Mes personnages prenaient chair et ma palette d'émotions devenait plus large… »
Son approche minimaliste implique souvent une photo amateur sur laquelle est ajouté un document imprimé, un fragment dessiné, ou de l'encre directement appliquée révélant un lien inattendu qui leur donne une seconde vie. Une forme de recyclage poétique…
In 2005, when Philippe Jusforgues came across a suitcase full of old family photos, he began to experiment with collage.
« It was like a game. I could change a face and the whole image would be transformed. The realism of photography and the lightness of drawing mixed together – my characters became real and the range of emotions became larger… »
His minimalistic approach more often implies an amateur photo, that he then adds printed document, a fragment of a drawing, or ink directly applied, which give the original piece a second lease of life. A form of poetic recycling… »