DRAWING NOW ART FAIR
Ben Vautier artiste en focus
Gregory Forstner, Natacha Lesueur, Gérald Panighi, François Paris et Julien Beneyton artiste invité
 Galerie Eva Vautier, STAND C13, Drawing Now Art Fair, Le Carreau du Temple, Paris
Pour cette nouvelle participation au salon Drawing Now, la Galerie Eva Vautier présente les dessins de Ben Vautier, Gregory Forstner, Natacha Lesueur, Gérald Panighi, François Paris et Julien Beneyton artiste invité.
Le focus du stand est dédié à Ben Vautier, avec une sélection de dessins rares et historiques, d'autres récents, constituant un ensemble d'écritures et aphorismes sur papier. Depuis 1958, Ben tisse par l'écriture, peinte ou dessinée, des passerelles entre l'art et la vie. Les supports qu'il utilise, au départ pancartes et affiches, puis toiles et papiers noirs, affirment le caractère pictural de ses dessins actuels : écritures manuscrites au stylo correcteur blanc sur fond noir. Avec un ton proclamatoire et provocateur, ses dessins déroulent le fil de sa pensée, mettant en scène son « moi », son égo, ses autocritiques, questionnements et affirmations sur la vie.
Gregory Forstner expose une série de dessins réalisés au fusain, distingués par son geste pictural vif et expressif. Gentlemen à tête de mort, de cochon ou de chien, figures récurrentes du répertoire iconographique de l'artiste, composent un univers étrange emprunt d'allégories.
Les dessins de Natacha Lesueur, hyper-réalistes, reprises méticuleuses à la mine graphite inspirées de sa pratique photographique, sont inédits et réalisés spécifiquement pour cette édition du salon Drawing Now 2019.
Gérald Panighi, révélé l'année passée par son « nuage », propose une composition de nouveaux dessins, toujours navigant entre une imagerie soigneusement négligée et de petites phrases du quotidien, qui par leur assemblage, provoquent un humour grinçant.
Les dessins de François Paris évoquent souvent le corps ou la mécanique, les visages sont absents, les regards se refusent à l'aveuglante lumière du monde. Leur langage, emprunt de la photographie et du cinéma, constitue un récit elliptique.
Enfin, à l'occasion de cette édition Drawing Now 2019, la Galerie Eva Vautier invite l'artiste Julien Beneyton, qui présente deux dessins, restitutions minutieuses d'un environnement immédiat et quotidien : les quartiers populaires et les marchés, les habitants et leurs humeurs, comme le « témoignage d'une époque ».
---
For this new participation to the Drawing Now fair, Galerie Eva Vautier presents drawings by Ben Vautier, Gregory Forstner, Natacha Lesueur, Gérald Panighi, François Paris and Julien Beneyton as a guest artist. The focus of the stand is dedicated to Ben Vautier, with a selection of rare and historical drawings, others are recent, creating a collection of writings and aphorisms on paper. Since 1958, Ben has been spinning, through handwriting, painted or drawn, bridges between art and life. The basis he has been using, some boards and posters at the beginning, then black canvases and papers, affirm the pictorial characteristic of his current drawings: handwritten with a white out pen over a black background. In a declaratory and provoking tone, his drawings open the flow of his stream of thoughts, staging his "Me", his ego, his self-criticism, questionings and assertions on life. Gregory Forstner shows a series of charcoal drawings, distinguished by his sharp and expressive pictorial gesture. Gentlemen with their heads as a skull, that of a pig or a dog, recurring figures of the artist's iconographic repertoire, compose a strange universe marked with allegories. 
The drawings of Natacha Lesueur, are hyper realistic, meticulous renditions in graphite, inspired by her photographic practice, they are new and especially made for Drawing Now 2019. 
Gérald Panighi, revealed last year with his "cloud", proposes a composition of new drawings, still navigating between a carefully neglected imaging and some short daily life sentences, which, put together, trigger biting humor. 
The drawings of François Paris often evoke the body or mechanics, the faces are missing, the gazes reject the blinding light of the world. Their language, a borrowing from photography and cinema, creates an elliptic tale. 
Finally, for this edition of Drawing Now 2019, the Galerie Eva Vautier invites the artist Julien Beneyton, who presents two drawings, meticulous renditions of an immediate and daily environment: working-class areas and markets, the inhabitants and their moods, like the "account of a time."
Ben Vautier, Parfois l'art me fait pleurer, 2019
Pastels sur papier, 65 x 50 cm
Ben Vautier, Le temps plus fort que l'art, 2019
Stylo Correcteur blanc sur papier, 21 x 30 cm
Gérald Panighi, Il dort chez ses parents la semaine, 2018
Technique mixte sur papier, 70,5 x 50 cm
Gérald Panighi, J'ai peur quand le téléphone sonne, 2018
Mine de plomb et crayon de couleur sur papier, 49 x 35,5 cm
Gregory Forstner, Sans titre, 2019
Fusain sur papier, 180 x 150 cm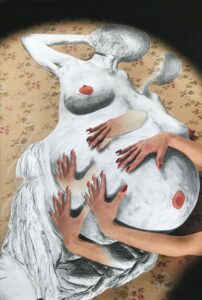 Natacha Lesueur, Une chambre à soi 1, 2019
Mine graphite sur épreuve photographique, 53 x 37 cm
Francois Paris, De l'antique regard absent, 2019
Dessin à la mine de plomb sur papier Arches, 36 x 26 cm
Julien Beneyton, BEAU RIVAGE, BANDOL, 2015
Acrylique sur papier, 55 x 55 cm
Courtesy & Copyright Julien Beneyton