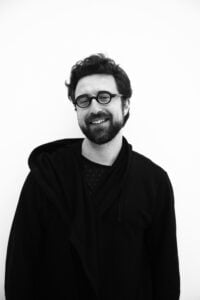 Joseph Dadoune
Joseph Dadoune s'est fait connaître en Occident et au Moyen-Orient au début des années 2000 grâce à des installations vidéo remarquables et une œuvre photographique originale. A l'occasion d'une exposition personnelle (Khamsin Photography, 2007) au Böhm Trade Center de Düsseldorf, il déclarait : « J'ai aujourd'hui tendance à penser que l'image filmée est la sémantique la plus appropriée, et que le cinéma permet de parler d'un sujet en en concentrant les multiples aspects […] L'installation, par son format (montage, scènes vécues, dispositif) pose aussi la question de comment poser une caméra face à ces choses vécues tout en mettant à distance le pathos ou le sentimentalisme. Si mon propos est de partir de documents, je ne souhaite pas réaliser un travail documentaire. […] Je ne cherche pas à créer une fiction à partir d'une réalité. Je cherche plutôt à ouvrir des portes pour rendre des connexions possibles. »
L'œuvre de Joseph Dadoune n'a cessé d'interroger le judaïsme, le post-colonialisme, la périphérie et l'homosexualité. Ses films et ses photographies éclairent ces violences symboliques archi-contemporaines.
Pour tout créateur – ayant un tant soit peu le sens de l'Histoire – une question se pose perpétuellement : quelle pierre ajouter ? Pour Dadoune, ce serait plutôt : quelle image ajouter aux images déjà-là ? Alain Badiou aurait parlé de nouvelles fictions.
Tel Ad Reinhardt, Joseph Dadoune a décidé d'enterrer l'image, sans pour autant faire table rase de la figure, du signe. Reinhardt aimait envisager ses Black Paintings comme  « une icône libre, in-manipulable, inutile, invendable, irréductible, in-photographiable, in-reproductible, inexplicable. » Les Black Boxes de Joseph Dadoune s'inscrivent à leur manière dans la logique moderniste des Ultimate Paintings de Reinhardt. Ces œuvres, aussi sèches, hermétiques et fermées soient-elles – pour reprendre les termes de l'artiste – font pourtant écho à des réalités bien tangibles. Counter Composition V (2011) évoque autant une vulve que l'œuvre éponyme de Theo van Doesburg (1924), ce qui lui a valu d'être présentée par la Galerie Le Minotaure  en octobre dernier à la Fiac, aux côtés des œuvres de Hans Bellmer, Marcel Duchamp, Louise Bourgeois, Man Ray ou encore Pierre Molinier. L'histoire contemporaine n'étant jamais très loin, Black Tunnel (2013) symbolise une des galeries souterraines construites par les Palestiniens afin d'acheminer des vivres entre Gaza et l'Egypte. Palm Box renverse l'imagerie d'Épinal fifties des lieux de villégiature. Quant à Black Museum (2011) face à laquelle, un chantre de l'esthétique relationnelle pourrait fantasmer de multiples fictions collectives, nous préfèrerons prendre le temps de nous interroger sur les vies à venir du White Cube. Qu'y a-t-il derrière le White Cube ? Quelle violence symbolique ? Quelle idéologie ? Quelle utopie scelle le Black Museum ? Les essais de Brian O'Doherty apparaissent alors d'une actualité brûlante et nécessaires (voir « Inside the White Cube: The Ideology of the Gallery Space » in Artforum, 1976).
Ces photographies conçues dans un atelier aux fenêtres sans huisseries, ni volet – comme des yeux sans paupières – ouvert sur le dehors, en lien permanent avec la rue, les voisins, les passants, la vie, renvoient nécessairement à une extériorité, à un Autre. Chaque photographie tente de répondre aux questions qui traversent cet ensemble : que se passe-t-il au-delà de l'image ? Derrière l'image ? Derrière la boîte noire ?
Tout comme l'atelier de l'artiste, ces photographies ne sont pas des œuvres fermées, bien au contraire, elles n'imposent ni point de vue autoritaire, ni doxa. Ce sont des œuvres ouvertes au sens où l'entendait Umberto Eco.
Elodie Antoine ,2014